Obituary for Nona "Jan" Veronica Janecek
Veronica, "Jan," Janecek, age 91, of Oshkosh, passed away peacefully on Saturday, September 16, 2017 at Evergreen-ShareHaven. She was born on Jan.10, 1926, in the town of
Woodstock, WI the daughter of Cyril and Huetta (Brown) Janecek. Veronica never married. She
attended Palmyra Elementary, Tar Hollow Rural School, and Richland Center High School. During one summer as a camp counselor a horse fell on her, causing an injury that required her to be immobile. Avoiding a hospital stay, she was invited to recover in the Wislinsky family home, building a strong family friendship with the sisters, Betty and Joan, that lasted a lifetime.
In 1948, she graduated, first in her class, from La Crosse State Teachers College. Her teaching career took her to many communities. She taught physical education for Neenah Public Schools and then Wisconsin State Mental Health Hospital in Mendota, and off to California for a short time. She also found time to open a store in Richland Center, WI, selling books, hobbies and stationary, as well as a stationary store in San Francisco, Ca. Missing Wisconsin, Jan returned to Oshkosh. She enjoyed a successful career as a Recreational Therapy Administrator for Winnebago Mental Health Hospital. Each summer she would plan an overnight camping experience for the kids at the hospital. Many years later she retired from the Winnebago Mental Health as the Activities Director.
Veronica knew about sweat equity, an early house flipper! She bought, fixed-up, lived in, rented and sold many properties. She rented rooms to UW-Oshkosh students and young professionals. Many remained great friends. She loved dogs! A gray Schnauzer named Heidi was her favorite; also special to her were Fritzzie and Mitzzie. "She was a great neighbor; she would share and help out." She had a GREAT sense of FAMILY, often hosting family reunions at her home. She was quality conscious and appreciated the feel and ride of her prized car, a midnight blue Mercedes convertible. She loved going on road trips with family and friends. She drove cross country for many visits, to attend reunions, birthdays, weddings and even funerals. She was very thoughtful, generous, always bearing gifts, and willing to help. She assisted her nieces in a bike race, driving to mileage destinations as a security and guidance manager.
A great competitor, she was at her best when she helped others become better. A high scoring bowler; a great golfer; sharp pool player, and part of a women's card club up until the last years of her full life. She had a special twinkle in her eye, when she could beat you! She was a Green Bay Packer and Brewers fan, and enjoyed watching basketball games –freely giving coaching and encouraging advice as she watched the games on her TV. She was a good cook. An encouraging person, and friend, fun to be around. She made many friends and touched many people. Veronica had full confidence and trusted in her risen Lord and Savior, Jesus Christ. Psalm 116:15, "Precious in the sight of the Lord is the death of His saints."
She is survived by her brother, Kilbourn Janecek of Ariz., nieces and nephews: Kate Janecek; Susan Dray Nyden, Daniel (Lynn) Dray, Bill (Helen) Dray; Kathy Baker (Larry) Burgh, Patti Baker (Tom) Hardy, their children, Jeff Hardy, Courtney Hardy (Tobias) Williams, Allison Hardy; , Paul Tina) Baker, Steve (Karen) Baker, Edward (Esther) Baker their children, Jesse, Jenny, Trey, Krista, Jenna, Desire, and David Baker, Brian Baker; David Janecek, Rick Janecek, Mark (Patti) Janecek, Phillip (Julie) Janecek; and many GN: Christopher(Eugene) Burgh; Kayla Baker; Ashley and Paul "Landon" Baker; Marissa Dray (David) Mahagoul and Heather Dray (Tim) Johnsen; Issac (Carola May) Nyden, Judah (Christy) Nyden Gay and Ben (Shannon) Nyden; Becky Dray and Steven (Liz) Dray; and GGN; Special friends: "Moe", Mary Martha Mueller; Mary Pat Thompson; Alice Bauer, Brenda Braun; Lisa Dvorachek; and ShareHaven Staff and Generations Hospice caregivers.
Veronica was preceded in death by her sisters, Kathryn Dray and Rosemary Baker, and brother,
Edward. Funeral services will be held at KONRAD-BEHLMAN FUNERAL HOME WEST, 100 Lake Pointe Drive, Oshkosh, WI 54904, at 3 p.m. on Saturday, September 30, 2017, with Pastor Daryl Marko presiding. Visitation will be held from 2PM. till the time of the service. Inurnment will be at a later date at the Woodstock Cemetery. In lieu of flowers memorials may be made in Veronica's memory, c/o First Baptist Temple, 138 Church Ave., Oshkosh, WI 54901.
To send flowers or a remembrance gift to the family of Nona "Jan" Veronica Janecek, please visit our Tribute Store.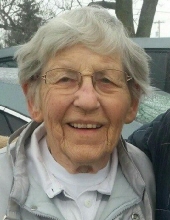 Thank you for sharing your
memory of Nona "Jan"
Provide comfort by sending fresh
flowers from our local florist.
No thanks, please don't show me this again.