Obituary for Rose Marie Mathe
On Friday, April 28, 2017, Rose Mathe, traveled "Over the Rainbow" and was reunited with her best friend and mother, Lillian Prust.
Rose's journey began with her birth at home in Poygan, WI, February 27, 1939, welcomed by parents Wilbur and Lillian Haase and older sister, Arlene, the same year one of her favorite movies, "The Wizard of Oz" premiered. Rose was later joined on the Yellow Brick Road with brothers Paul, John, Ron, Roger and sister Linda. Her childhood was largely spent on farms in Omro. It was a hard life, but early on her strength and sacrifice for others was evident. After her stepmother's death in her first year of high school, she had to quit to care for her siblings. Through it all she persevered and developed an indomitable spirit, putting others' needs before her own. Rose's journey continued to Oshkosh living with her mother, brother Paul, childhood friend, the other Rosie Schultz and beloved Grandpa Doyle. Her mischievous nature and keen sense of humor developed into endearing qualities. Moving on down the road, Rose married William Schultz and had four children: sons, William(Derek) and Rick(Ann), daughters, Edie(Soren), and Tina(Mark). With money tight, she always found a way to turn her houses into homes, focusing her energy on the needs and happiness of her family, instilling the belief "There's No Place Like Home." Yearly, Rose would make her famous oxtail soup, and as a family watched "The Wizard of Oz." She loved flowers and gardening and could take a dead plant and bring it back to life. She lived her life without prejudice or judgment, being true to oneself and to never give up. As a newly single mother of 4 children, she earned her high school diploma, obtained a driver's license and took classes in real estate. She proved she was smart, had heart and courage. She had many different jobs in her life. On her resume, under experience, it may say, "A Little Bit of Everything." The most fortuitous place she worked was "Shakey's" because it was where she first met her husband of 31 years, Joseph Mathe. One day Joe went in for lunch, the sassy redhead caught his eye and the courting began. Soon they were married and Joe's 6 children became part of her life. A new chapter began, filled with adventure and fun. Rose developed new interests and hobbies and a new zest for life. She became an avid fisherman, square dancer in Timber Toppers, took up roller-skating and always on the go. Soon she had grandchildren who became the apples of her eye. She enthusiastically spent many days entertaining Stephanie and Jon (Schultz), Laura, Chrystal and Travis (May) and Taylor and Jacob (Schuhart, father, Randy). Holidays were a special time full of togetherness and fun. Their home on South Park became infamous for its Halloween production. Trick or Treaters came far and wide to enjoy the experience. Life was good and the road was filled with joy and laughter and unforgettable memories.
As the years past and her journey continued, the road had many ups and downs, but with her family by her side, she endured, always with their happiness at her forefront. As she neared the Emerald City, she slowed down, and needed help to carry on. Her special angel, Dawn, and Karen appeared in the road to help her along the way showing undeniable compassion and kindness for which we will be eternally grateful. Rose's journey down the Yellow Brick Road was complete and as she said her final goodbyes, she stepped to the other side of the rainbow in peace knowing one day she would be reunited with us all again. Her memory will live on in the hearts of her family, friends, nieces, nephews, 3 great grandchildren, long-time friend, "Martha," and many others who were touched by her life.
A private family gathering and tree planting in her memory is planned. In memory of Rose and her spirit, lend a helping hand or bring laughter and joy to a neighbor or stranger in need, perform a random act of kindness or plant a beautiful flower in her honor.
Love bears all things, believes all things, hopes all things, endures all things.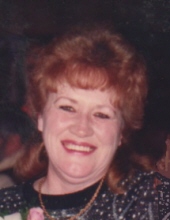 Thank you for sharing your
memory of Rose
Provide comfort by sending fresh
flowers from our local florist.
No thanks, please don't show me this again.